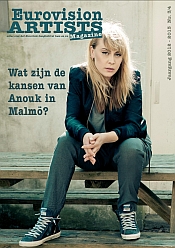 Wie is Anouk?
Voorbeschouwing op het 58e Eurovisie Songfestival in Malmö
Statistiek: Servisch beste songfestivaltaal
Eerdere festivals in Zweden
Nationale sterren op het Eurovisiepodium
Wist u dat?
De geschiedenis van het ESF: 1978-II
TROS: Songfestival wordt steeds meer 3FM
Interview met Gianni Mascolo
The best of Eurovision - Irelands winners
Interview met Johnny Logan
Koerswijziging Eurovision Artists
In memoriam
Dit is een dubbeldikke editie en daarmee de laatste van dit seizoen.